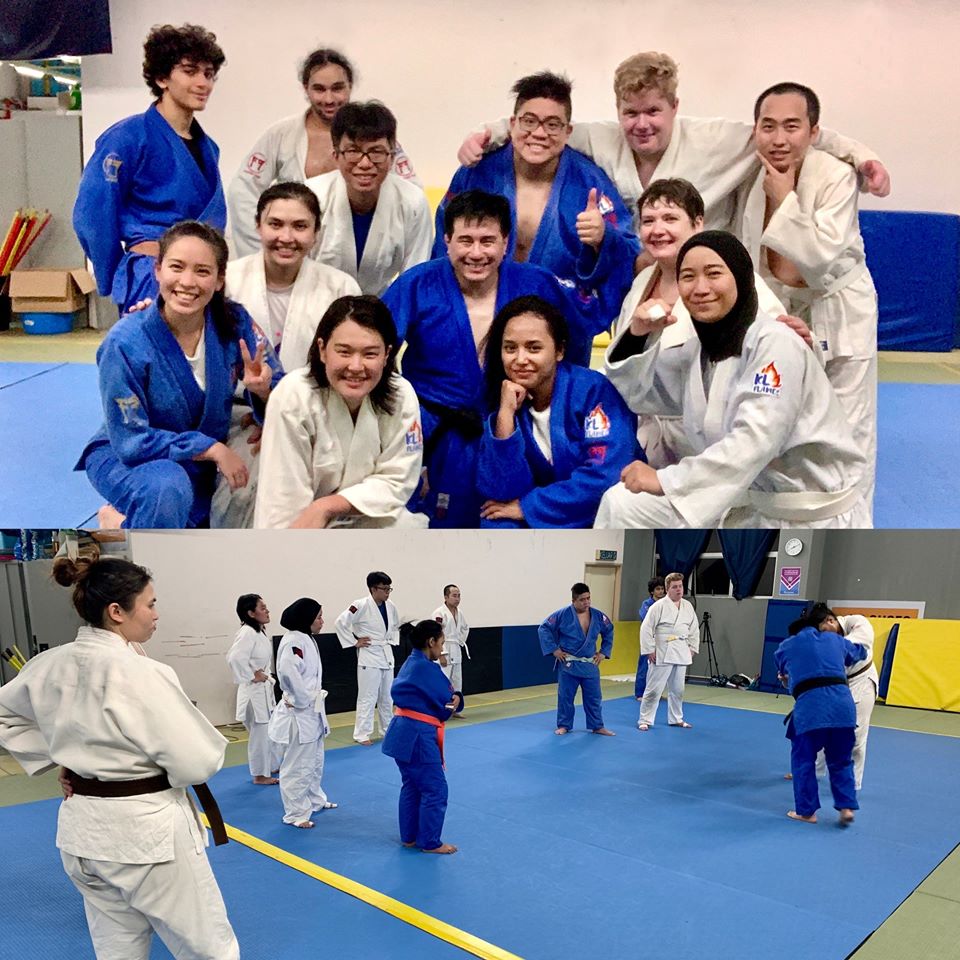 The Covid-19 crisis has been a real problem for many sports and fitness clubs. At KL Judo, we are fortunate to have many loyal members who have stuck with the club despite the lockdown, which lasted nearly four months. It is their unwavering support that has kept this club alive.

We were also pleasantly surprised to have a few new members join us. Two of them actually joined during the CMCO period where all we could do were outdoor exercises, with social distancing observed. But they joined and did the exercises, while waiting for the government to allow us to resume with proper judo training.

Later on, when indoor training was allowed, we managed to pick up another new member. And he trained along with the rest, using sticks and other devices that allowed us to simulate actual judo training while maintaining a distance from each other.

This Wednesday, the day regular judo resumed, we had a visitor come for a trial session and she decided to sign up straight away. The next day, another visitor came for a trial and while he didn't sign up immediately, he says he's seriously considering it.

On the children's front, we've also had some new sign-ups. Even before regular judo was allowed, we had five new kids join our Sunday Family Judo sessions. Like the adults, they had to do their games and drills with social distancing. They still had great time though. One trial session and their parents signed them up on the spot.

Since the lockdown began, we have seen some members (kids and adults) drop out. That's only to be expected. I don't personally know of any judo club that has not lost any members as a result of this pandemic crisis. A good friend who runs a judo club told me his club's membership base is down to about 60% of what it was pre-lockdown, and that's considered a good outcome. I personally know two coaches who unfortunately had to close shop all together.

We are at about 90%, which is really not bad considering the circumstances. We are really thankful that the majority of our members has chosen to stay with us. It also helps that we've managed to pick up a few new members since the lockdown began. This was a totally unexpected but certainly delightful development.

I think the reason we were able to buck the trend and not only retain most of our members but attract some new ones as well, is that we offer a really good experience and exceptional value to our members. Quality matters.  

We offer lots of training opportunities (6 sessions per week), a fitness and conditioning segment (HIIT, plyometrics, speed and agility training, etc), high-level technical instruction and sparring sessions for both competitors and recreational players — all conducted in a modern, spacious and well-equipped dojo located in the heart of Kuala Lumpur.

But perhaps most importantly, when new members join us, they join a vibrant, keen and friendly judo family. If you are concerned about not having enough training partners or the right type of training partners, you won't have a problem here. Whether you're big or small, male or female, young or old, competitive or recreational, you don't have to worry. Our membership base is diverse enough that we have the right training partners for you.

And if you're worried about whether it's safe for you to do judo or whether you will be able to fit in as a new member, again, you won't have a problem here. Our players know that safety is a priority and they are a real welcoming lot.

Our experience has been that new members are able to integrate almost immediately. In fact, if you were to visit our club for the first time, you would have difficulty telling apart the new members from the old ones. That's how well they tend to gel.

But all of this didn't happen by accident. Over the years, we've taken great pains to ensure that a good club culture is established, where people are respectful and welcoming, yet fight really hard. In short, we worked hard to establish a club that we would enjoy training at.

In the beginning we did have a few (very few) problematic members but they have long since left the club. Today, we are at that fortunate stage where a virtuous cycle has set in. I recently came across an interesting comment about club culture by an American judo coach named Andy Hung. What he said really resonated with me so I'm going to quote him here:

The culture of our club is finally at a point where it is roughly self sufficient. It took about 3-4 years of operating for us to settle in to a cultural groove, but it's finally gelling. Culture stems from the root up, so having a solid, dedicated, focused, and dignified human being as a leader is an absolute must.
Like-minded people attract like-minded people, so if you have quality people and aim to attract those with high character via your dojo rules, ethics, and business practices, it will do so. People that do not fit a program will eventually weed themselves out with very little influence. It simply will not fit for them and they will move on.

So, after four really long months of lockdown, we are off to a good start. Let's hope we can maintain this good momentum for the rest of this year.