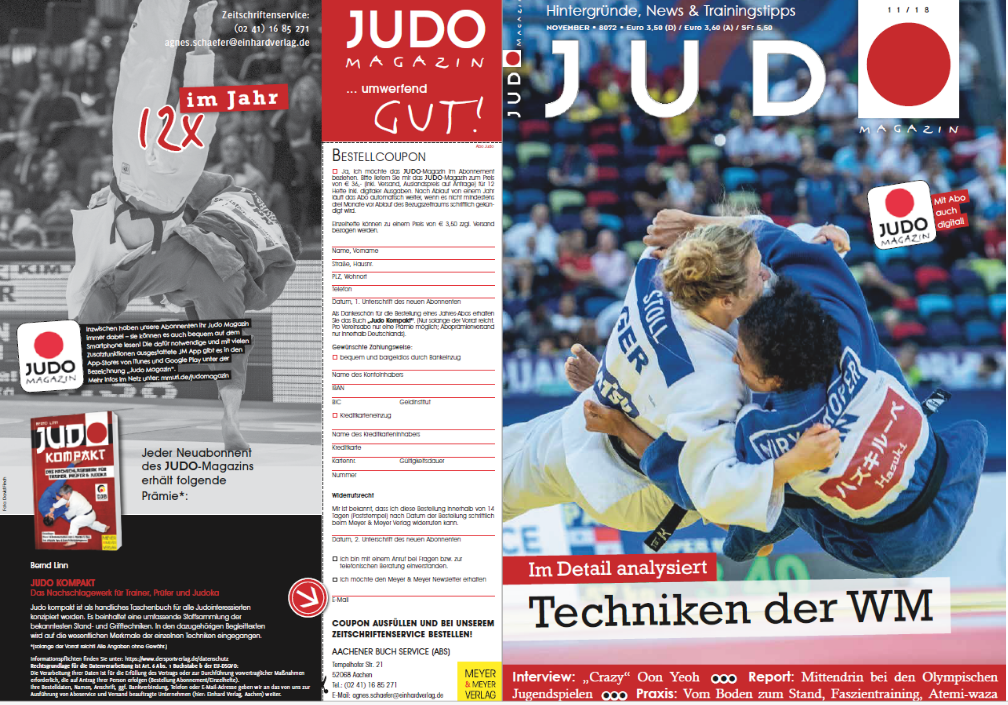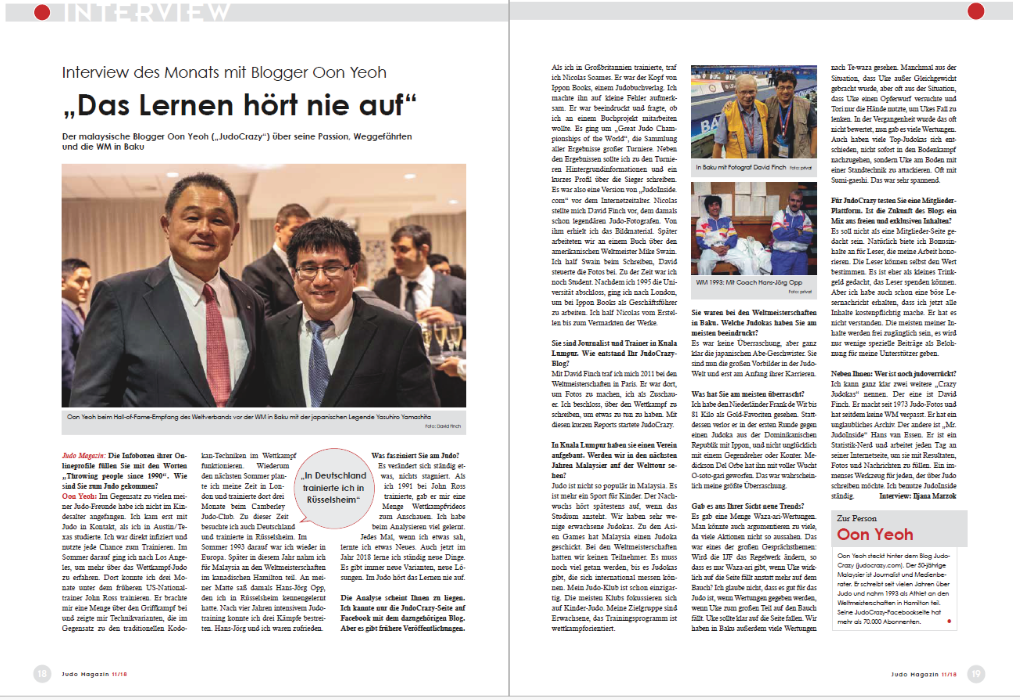 1. I read that you've been throwing people since 1990. What's your history with judo?
Unlike many of my judo friends, I did not pick up judo at an early age. My first experience with judo was when I was studying at the University of Texas in Austin. I was hooked straight away and trained as much as I could. The next summer I went to Los Angeles to seek out competitive judo training and spent three months there training under a former US national coach named John Ross. He taught me a lot about gripping and how competition techniques actually worked (as opposed to traditional Kodokan techniques). The summer after that I went to London to seek out competition training and ended up in Camberley Judo Club for three months. I also visited Germany to do some training in Russelsheim. I did the same thing the following summer and later that year I took part in the 1993 Hamilton World Judo Championships. My friend Hans-Jorg Opp, whom I had met in Russelsheim was my mat-side coach. I had three fights in all and both Hans and I thought that's a pretty good result for someone who had only been doing judo for four years.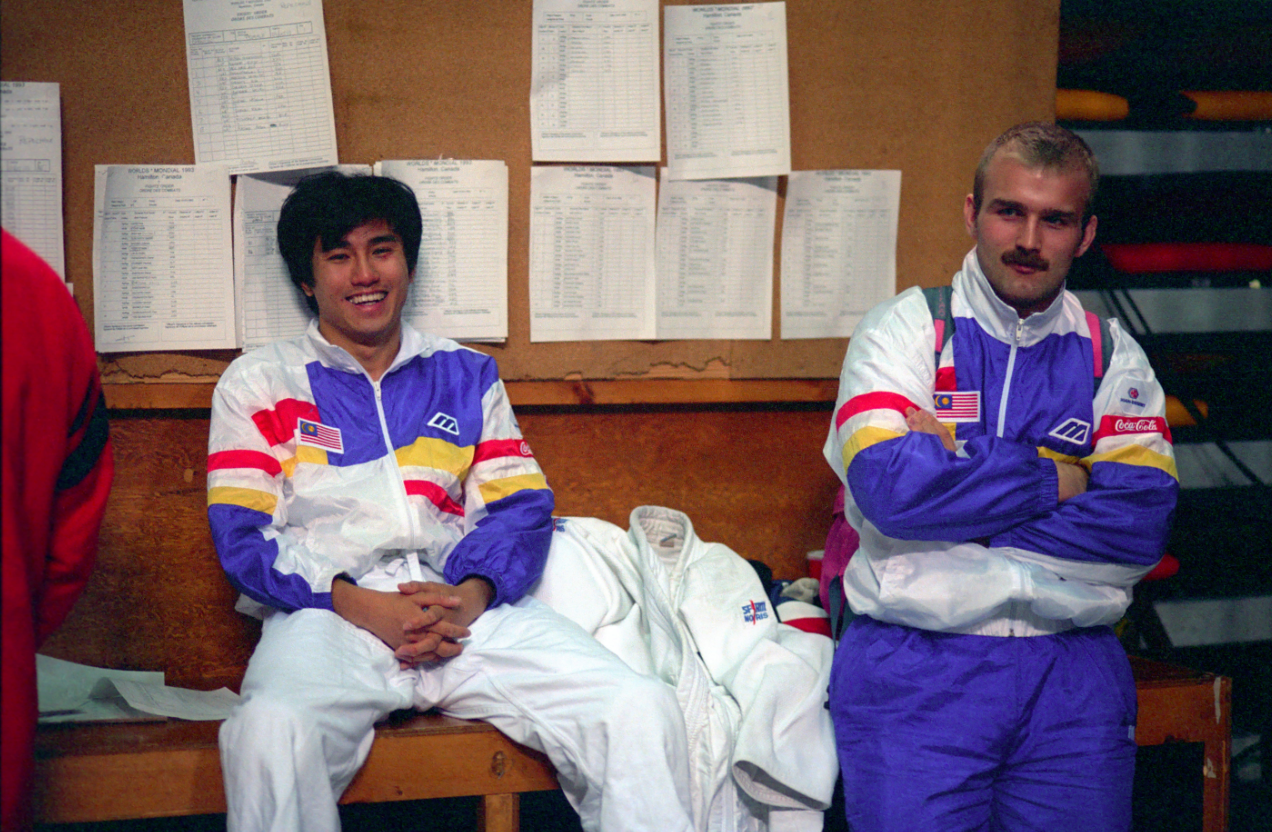 2. Lately I discovered that you had been publishing about judo way before the Internet. What's your history in publishing?
While I was training in the UK, I met Nicolas Soames, the owner of Ippon Books Ltd, a specialist judo book publisher. We got to talking and I pointed out some mistakes he had made in some of his books. They were just some minor factual errors but he was impressed and asked if I wanted to work on a judo book project called "Great Judo Championships of the World" which is best described as a pre-Internet version of JudoInside. It's basically a book containing results from the major judo competitions of the time (Olympics, World Championships, European Championships, Tournoi de Paris, Kano Cup, etc). He told me to compile the results, provide some background to each competition and do brief profiles of top champions from those competitions. Then he introduced me to David Finch, the legendary judo photographer, and told me to get the pictures from him. That was our very first collaboration. Later we worked together on a book with American World Champion Mike Swain. I helped Swain write the book and David did the photography. This was while I was still in the university. After I graduated from university in 1995, I moved to London and worked for Ippon Books as general manager – basically helping Nicolas with everything from editing to marketing to distribution.
3. What is so fascinating to you about judo?
I like the fact that judo is always evolving and never stagnant. When I trained under John Ross in Los Angeles in 1991, he gave me a bunch of competition videos to watch. I learned so much from analysing those videos. Each time I watched something, I was learning something new. Fast forward to 2018 and I'm still learning something new every time I watch competition videos. In judo, the learning never ends.
4. You run KL Judo Centre in Kuala Lumpur. What's the status of Malaysian judo scene regarding international competition?
Judo is not popular at all in Malaysia. It's mostly done by kids but by the time they enter university, most of them drop out of judo. And by the time they graduate, almost all of them have dropped out. So, we really don't have many senior players. Malaysia sent one judo player to the 2018 Asian Games. That's all. And there was not a single Malaysian player at the 2018 World Championships in Baku. So, Malaysian judo has got a long way to go before any of our players could be ready for international competition. My judo club is rather unique in Malaysia in that it's really the only club that caters for adults. All the other clubs are mainly for children and junior players. They might have one or two adults but not more. In contrast, my club members are mainly adults, with just a few teens who like to train with adults. I don't have any children in my club at the moment.

5. Looking back at the World Championships in Baku which female and which male player impressed you the most?
I have to say the obvious: the Abe siblings. Uta and Hifumi Abe are now the darlings of world judo and their stars will shine for many years to come.
6. Who was the biggest surprise in Baku?
I thought Frank De Wit of the Netherlands might become the gold medallist but instead he lost in the first round to a player from the Dominican Republic by ippon. And it wasn't even by some lucky footsweep or uchimata-sukashi or even a counter. He was thrown with a massive osoto-gari by Medickson Del Orbe who then lost in the next round. So that was probably the biggest surprise.
7. Since last year there's a different scoring system. What do you think about that? Did you see any new trends?
In terms of scoring, there were lots of waza-ari. Some might argue too many because some waza-aris really didn't look like waza-aris. There's a big debate about that and many people were talking about it in Baku. Will the IJF change the rules so that waza-ari can only be scored if uke truly falls on their side rather than towards the front? Who knows but I don't think it's good for judo is waza-ari is devalued like that. I also saw quite a lot of scores from tewaza, where tori simply used the hands to drive uke to the mat. Sometimes this happened when uke was simply unbalanced but often it was after uke tried to do a sacrifice throw. In the past, these were often not scored but in Baku, a lot of them were scored. Something else that was very obvious was that many top players were attacking uke off the ground. So instead of engaging in newaza when uke is on both knees, tori would try to throw uke instead (usually with sumi-gaeshi). And a lot of the times, they scored. So that was interesting.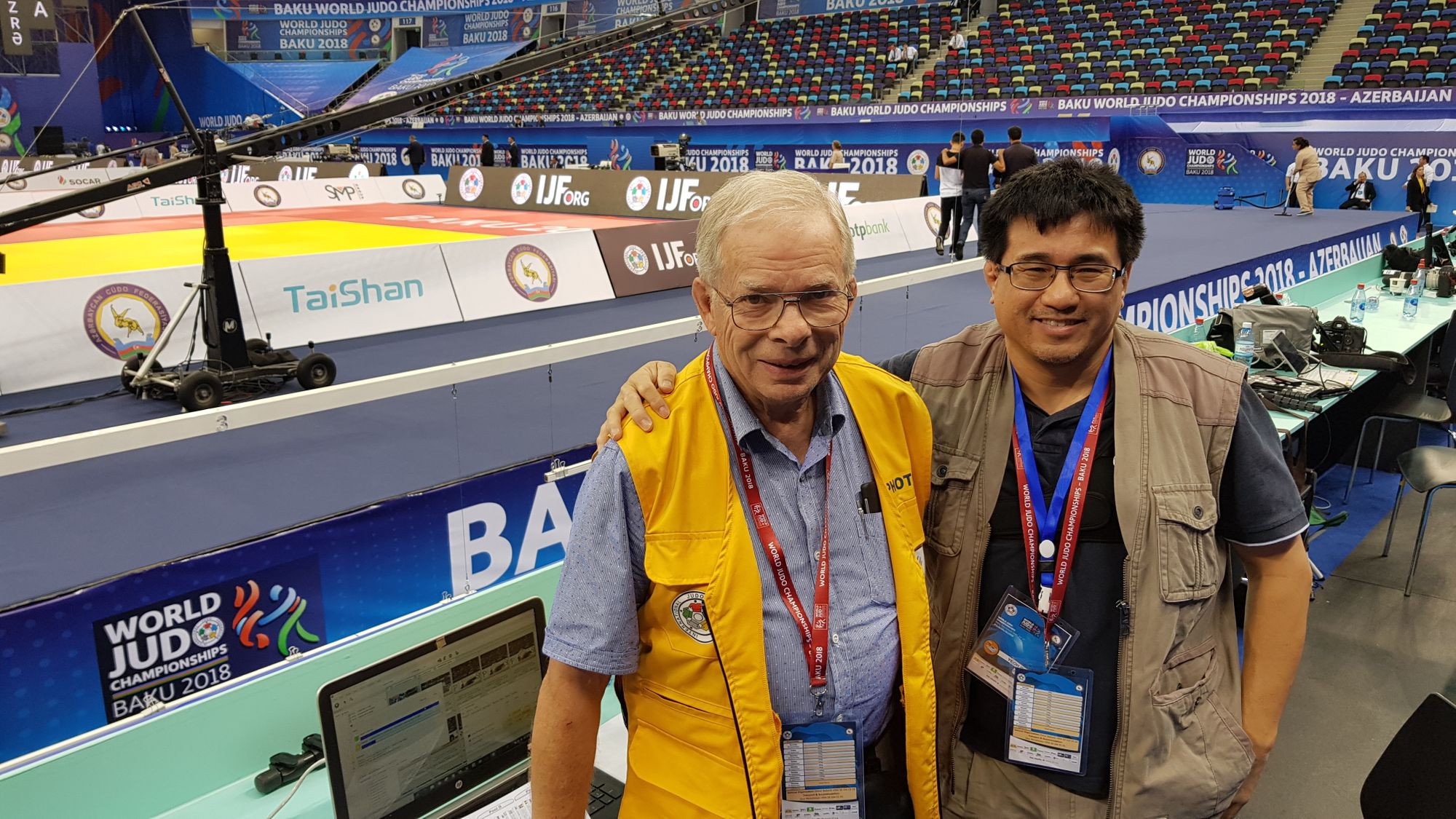 8. As the JudoCrazy blogger what were your intentions first starting the blog?
My long-time collaborator David Finch and I were in Paris for the 2011 World Judo Championships. He was there to take photos but I was there just for fun. I decided to start a blog to report on the competition just so I'd have something to do besides just watching. So, that was how it all started.

9. I see that you started to use Patreon as a membership platform - Looking into the future what are your plans with JudoCrazy?
Actually, it's not meant to be a membership site. Most of the content on my Patreon page is absolute free. The Patreon platform simply allows me to reserve some bonus content for people who support my work. You're allowed to set the patronage amount and I have set it to a nominal US$5. It's like a small tip that readers can contribute if they want to, that's all. One reader was upset and posted that he would "unlike" my Facebook Page because I am now charging membership for Patreon. He completely misses the point. I'm not charging for content. Like I said, most of the content (maybe like 95%) is still free. The other 5% are special postings to reward my patrons, that's all.
10. Next to you - who are the most "Judo Crazy" persons you know?
I can name two who are absolutely Judo Crazy. And they are my two frequent collaborators. One is David Finch, who has been shooting judo photos since 1973 and hasn't missed a single World Championships since then. Imagine what can be done with his extensive archive. The other is Hans Van Essen of JudoInside who is a statistics nut and who works extremely hard to update his site manually every day with results, pictures, stories. He doesn't do as much original content as I do but he collates judo information from all over and his site is an immensely useful tool for anyone wanting to write about judo. I use it all the time.