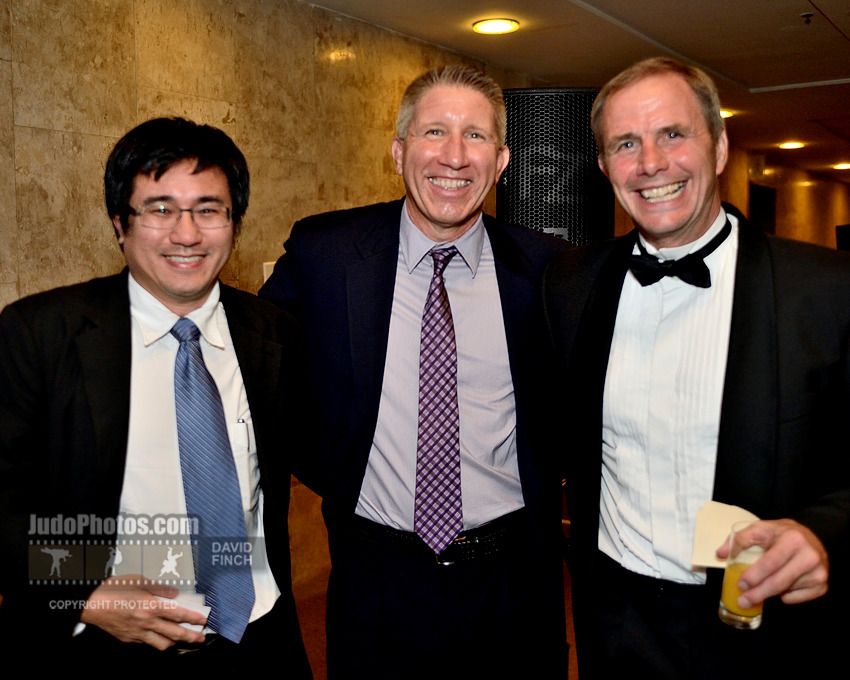 Today it's possible to learn whatever you want to learn with just the click of a mouse. But in the pre-Internet era, all you could rely on were books and videos. We're not talking about e-books and YouTube videos but printed books and VHS tapes. These are rather cumbersome to deal with compared to online content but for those hungry for information, they would do fine. The problem is that both judo books and judo videos were in short supply because judo is just not a very commercial sport.

Books on judo tended to be reprints of titles published in the 1960s. They often featured classical judo techniques, not at all representative of how the sport had evolved since then.

The only judo videos that existed were highlights of World Championships that were made in Japan for the International Judo Federation. These were issued once every two years (as the World Championship was a bi-annual event) and featured remarkably bland commentary by a voice-over artist who was clearly not a judoka.

Basically, there weren't a lot of books or videos to choose from and the ones that existed were nothing to shout about. That all started to change in the late 1980s. Two things were happening in the UK that dragged judo, kicking and screaming, into the modern age.

Nicolas Soames, a judoka and a professional journalist, started writing books about judo. He ghost-wrote biographies of British World Champions Karen Briggs and Neil Adams. And he wrote a fantastic book under his own name called "Olympic Judo", which detailed all the major fights in the Olympics from 1964 to 1988. All these books featured photographs by David Finch, a British photographer who began shooting judo competitions in the early 1970s. These books were like gold-dust to information-hungry judokas like me.

In the early 1990s, Nicolas founded his own judo publishing company called "Ippon Books". He conceptualized and published "The Masterclass Series" which focused on specific sets of techniques. Imagine a whole book just on uchimata or seoi-nage or armlocks! Each book was "authored" by a World or Olympic champion (they were either co-written or ghost-written by professional writers).

One of the first Masterclass Series books I got my hands on was "Grips" by Neil Adams. Imagine a whole book just on the art and science of gripping, a topic that wasn't usually taught in traditional judo circles. Neil was a master of gripping and in that single volume, he explained what gripping was all about. What a revelation it was.

At the same time, Simon Hicks, a judoka and filmmaker (he made movies that played in cinemas), began applying his filmmaking skills to the coverage of major judo events. He co-founded Fighting Films and their first big production was coverage of the 1989 Belgrade World Championships.

They engaged Neil Adams, who had just retired from competition, to provide the live commentary. He proved to be a natural. It was in that tape that he uttered the now famous line: "Oh, he's done it again! Wow, goodness me, I don't think I've ever seen a technique like it," when Toshihiko Koga of Japan threw Chang Su-li of North Korea with a spectacular one-handed morote-seoi-nage.

That would be a line every judoka of my generation would mimic whenever someone did a really good throw.

Fighting Films didn't just feature highlights from the bronze medal and gold medal matches, like the bland Japan-made IJF productions, but peppered their coverage with some of the best action clips from the preliminary rounds. The action was accompanied by catchy music featured Neil Adams's exciting color commentary.

Their first instructional video had Karen Briggs and Neil Adams demonstrating competition techniques. At the end of each tutorial would be competition examples from major events. Fighting Films videos, Ippon Books publications, were gems to be treasured.

Ippon Books
I got to know Nicolas Soames through the Budokwai. He was impressed with my knowledge of judo and had asked me to work on a book project called "Great Judo Championships of the World" which featured historical results from all the major international competitions. Not just the World Championships but also the Tournoi de Paris (which would later become the Paris Grand Slam) and the Kano Cup (which would later become the Tokyo Grand Slam). The book also featured profiles of great champions like Neil Adams and Karen Briggs of Great Britain, Angelo Parisi and Jean-Luc Rouge of France, Robert van de Walle and Ingrid Berghmans of Belgium, Yasuhiro Yamashita and Ryoko Tani (née Tamura) of Japan and so on.

It was my first effort at writing a book so I was quite excited about it. But upon publication, I felt I could have done a better job. In fact, at one point I was a bit embarrassed about it and when the book fell out of print a few years later, I told Nicolas to burn the remaining copies.

I tried to forget about that book but in 1996 at the Atlanta Olympics it cropped up unexpectedly. By then, I had retired from competition and had made a name for myself in judo publishing circles. The Atlanta Committee for the Olympic Games had invited me to serve as the judo information officer to help international journalists covering the judo event.

Sports journalists are seldom specialists. They know a bit about many sports but would not be familiar with the intricacies of each sport. So, information officers who were specialists would be assigned to assist them. They might ask why a shido was given or why the score was waza-ari and not ippon. Or they might simply want to know the name of the technique that was applied. My job was to answer any questions they had about judo in real time while the Olympic matches were going on.

The publisher for the "Official Handbook for the Atlanta Olympics" had also engaged me to write the chapter on judo for their publication. Sport Illustrated, America's top sports magazine, meawhile had asked me to contribute an article predicting who the winners would be.

When I arrived in Atlanta, I had expected the pressmen to have a copy of the Official Handbook or Sport Illustrated as reference material. Instead, what many of them were referring to was "Great Judo Championships of the World". When the Japanese journalists found out I was the author of that book, they showed me their copies, expressed their appreciation, and asked a bunch of questions about what to expect in the judo event.

I remember thinking to myself, "Japanese journalists referring to a Malaysian guy's book for information about judo. Who would've thought?" For a brief moment, I was no longer ashamed of that book.

I still cringe though whenever I come across it while doing some spring cleaning. I hate the book but I can't bear to throw my only copy away. The concept was good but the writing was not very good at all because I was still a novice at writing at the time.
Despite my misgivings about it, Nicolas was sufficiently happy with the book that he asked me to do another project. Towards the end of that summer spent in the UK, he said to me, "You're going back to the US, how about we invite Mike Swain to do a Masterclass book?"

Swain was the American judoka who famously defeated Toshihiko Koga in the 1987 Essen World Championships. In their match, his winning throw was ouchi-gari. He was also known to use kouchi-gari, so he was quite the ashiwaza man. After some brainstorming, we decided to invite him to do a book on ashiwaza.

There was already an entry in the Masterclass Series entitled "Ashiwaza: De-Ashi-Barai, Okuri-Ashi-Barai, Harai-Tsurikomi-Ashi and Sasae-Tsurikomi-Ashi" by double World Champion Nobuyuki Sato. So, we decided to call Swain's book "Ashiwaza II" and feature four new leg techniques: Ouchi-Gari, Kouchi-Gari, Kosoto-Gari and Hiza-Guruma".

I contacted Swain and asked if he would be interested. He was. Nicolas asked me to conceptualize it and do the writing for it. I would be credited as co-author. David Finch would do the photography and provide contest photos. We would both have to travel to San Jose, California to do the interview and photoshoot. That would be the first of many collaborations I would do with David. We would go on to do projects together for the next 30 years, and counting.

Nicolas explained how he did books with Karen Briggs and Neil Adams. "You basically spend a few days with them and interview them at length, then you go back and write the thing." It was as simple as that. And how long did it take him? He said the interviews lasted two or three days at most. My interview with Swain was scheduled to last two days.

Although I was still relatively new to it, I was really confident I could do a good job. I had studied Swain's matches in various competitions so I was very familiar with his judo. I drafted a shooting script which I shared with him. He gave some feedback and we altered a few minor things but we basically stuck to the script. I had done my homework.

Swain's a pro and his judo is excellent so the photoshoot went smoothly. There were not many sequences that needed a second take. We managed to get everything we needed in two days.

Without the benefit of e-mail or Dropbox or anything like that, I had to wait for David to send me the pictures by snail mail from the UK after he had developed them. I then had to choose which ones to use and have them manually scanned. It was a laborious process but I loved every minute of it. I knew this was going to be such a good book, much better than my first one.

Nicolas was my writing mentor. He had a great way with words and was able to make you feel as if you were right there watching the competition. After completing "Great Judo Championships", Nicolas told me that it was obvious that I was a competent writer. In other words, I didn't make grammatical mistakes. "What's yet to be discovered is whether you can develop a flair for writing," he said.

Well, as Picasso once said, "Lesser artists borrow, great artists steal". To develop my flair for writing I tried to emulate Nicolas's prose. I think I did a pretty good job of it and my early writings were very reminiscent of his writing style. Over the years I gradually developed my own style, but there are still hints of Nicolas's word play in my judo articles today.

When it was time for me graduate from university, I didn't know what to do next. On the one hand, I wanted to continue training and competing in judo. On the other hand, I needed to get a job. Nicolas offered me a solution that allowed me to do both. "Why don't you move to London and work for me at Ippon Books?" he suggested. "You could train at the Budokwai in the evenings."

At that point, Ippon Books was a very small company with just two full-time staff, Nicolas and his assistant, who was not a judoka. He used a bunch of freelancers for ghost-writing, editing, designing and so on. He offered me the role of General Manager which suggest an operational role but I also had editorial and marketing duties. Basically, I had to do everything. I had to conceptualize new titles, I had to market and promote existing titles, I had to expand distribution channels, I had to oversee production. Everything. It was an offer I couldn't refuse.

One of the most important lessons I learned during my time at Ippon Books was about the importance of balancing the desire to get everything right and the need to get things done.

One of the new titles we had commissioned was "Tai-Otoshi" by Neil Adams. Nicolas had suggested that I co-write that one but I was so busy doing everything else at the company, I told him we'd better get another writer. We turned to Ed Ferrie, a judoka who was also a professional writer. He had ghost-written a few judo books in the past and I loved his style too. David Finch was the obvious choice to shoot the pictures.

I would eventually co-author a book with Neil Adams but that would be decades later, in 2011. By then Ippon Books had been bought out by Fighting Films and for its first original publication they turned to me to produce a book with Neil. It was called "Judo Evolution" and it was about how the new IJF rules (which among other things, banned leg grabs) would affect how judo was played. Pictures were, of course, handled by David Finch.

When the pictures and manuscript for "Tai-Otoshi" were done, I had the job of putting it all together. Each time I thought we had a finished product, I would find something wrong with it that needed fixing. Maybe rewrite a sentence or change the layout for one of the sequences. This kept going on and on, and the publishing date kept getting pushed back.

One day, Ed visited the office and asked me how the book was coming along. I told him I was still fine-tuning it. He gave me some words of advice that I still remember vividly today. "Oon, each time you go through the draft, you'll always find some things that you think can be done better. At some point you have to say this is good enough. Otherwise, the book will never get published."

"What if there are mistakes?" I asked. "Fix it in the second edition," he replied.

And with that, I signed off on the book and sent it to the printers. Today, whenever I catch myself in perfectionist mode, I remind myself that at some point, you just have to press the "go" button or things will never get done.

Fighting Films
I first got to know Trevor Williams from Fighting Films because he was the businessman behind the venture (I only got to know Simon Hicks, the filmmaker, a little later, when I moved to London to work for Ippon Books). When I was training at Camberley, I wanted to buy every video that Fighting Films had ever produced. Their videos were very hard to find in the US.

I asked Trevor why they didn't have a distributor in the US. He said the quantities that could be sold there would be small and it was too costly to send over just a few copies. At the end of the day, it wouldn't make any commercial sense to do this, he said.

But I lived in the US and I knew the judo community there. They hungered for Fighting Films videos. So, I brashly proposed something to Trevor. "How about you give me the master tapes and I make duplicates which I could sell through mail order and at competitions?"

To my surprise, he actually liked the idea. After thinking about it, he came back with a proposal. I would have to pay a fee for duplicates of the master tapes to be made. These would then be deposited at a video reproduction facility in Texas which would keep a proper audit of all the copies made. Each time I made an order, they would send a report to Fighting Films, which would then charge me a royalty for the copies made.

I printed out brochures which I mailed to all the major judo clubs in the US. At judo events, I would set up a stall and sell products by Ippon Books and Fighting Films.

I even made a cross-marketing deal with Lia Hatashita, owner of Hatashita Sports, which owned the rights to sell Mizuno judogis in the US. If I got a sale for Mizuno judogis, she would send it to my customer and give me a commission. If she got a sale for Ippon Books and Fighting Films products, I would send it to her customer and give her a commission.

So, after a summer spent training in Europe and networking with key judo figures, I found myself back in college, training at my university's recreational judo club. But I had with me a book publishing deal with Ippon Books; American distribution rights for Fighting Films, and a cross-marketing arrangement with the distributor of Mizuno judogis in the USA.

It sounds a bit unreal even when I describe it now but at the time, it felt normal to me. I guess judo was what I was meant to do.